Dolor, muerte y mariposas


Sorrow, Death, and Butterflies
The work in my series Dolor, muerte y mariposas revolves around themes identity, self-transformation, and empowerment.
Esta serie de mi obra artistica trata temas de identidad, transformación, y fortalecimiento.

Traducción por venir...
This series artwork is influenced by the study of my ancestral indigenous Mexican culture, particularly Aztec/Mexika culture, as told through oral tradition. These teachings are known as
toltecayotl
or
mexikayotl
[me-shee-KAH-yohtl]
.
The pieces are based on concepts from Mexikayotl philosophy and the iconography includes glyphs from the ancient Mesoamerican painted books known as codices, which I call by the Nahuatl word for books:
amoxtin
[ah-MOSH-teen]. My art contains glyphs in their original form, although many glyphs are modified and some are my own creation.
This series is mostly mixed media paintings including oil, acrylic, and ink on wood or canvas. Some pieces contain non-traditional media such as paper, glitter, and found objects. The narratives within paintings are read from right to left, bottom to top, or cyclically. Instead of the typical rectangle support of most two dimensional work, many of my pieces have support shapes such as circle, semi-circle, and rhombus, or a rectangle with protruding parts.
By breaking with tradition in various aspects of the work, I reinforce my overlying themes: developing awareness of multiple realities, the importance of collective consciousness, and the deconstruction of illusory boundaries.
---
Elizabeth Jiménez Montelongo uses symbols from the Nahuatl meso-american tradition, like pyramids, serpents, skulls and mystic eyes. She also uses a symbolic color palette derived from her study of Hindu chakras; her symmetrically composed, icon-like paintings like "El Fruto," "The Moon" and "Reclaiming Autonomy" exhort us to reconsider ancient wisdom and formulate our own worldviews."

--Dewitt Cheng for The Stanford Daily (May 9, 2014)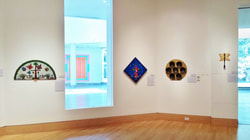 Above: Elizabeth Jiménez Montelongo's artwork at the Triton Museum of Art, Santa Clara, CA, Exhibition: "Imagine" (April 29- August 3, 2014)
---