The Euphoric Dance of the Unconquered Mind
Oil Paintings of Mexika (Aztec) Dancers from the SF Bay Area

Esta serie llamada La Danza euphórica de la mente insumisa, esta compuesta de obras de danzantes Mexika en oléo sobre tela. Los danzantes celebran la energía, poder, y libertad que llevamos todos por dentro. Las imagenes estan basadas en fotografías que tomé de danzantes en la aréa de la bahía de San Francisco. La superficie de estas obras tienen una guresa textura impasto ya que las pinto con cuchillo.

In my series, The Euphoric Dance of the Unconquered Mind, my textured oil paintings of Mexika dancers celebrate the energy, power, and freedom that we carry inside. This work is based on images of Mexika (Aztec) dancers from the San Francisco Bay Area who continue the tradition of indigenous Mexican dance. I take photographs of the dancers in movement and later crop and combine the images. The paintings have a heavy impasto texture since I apply paint with a palette knife.

---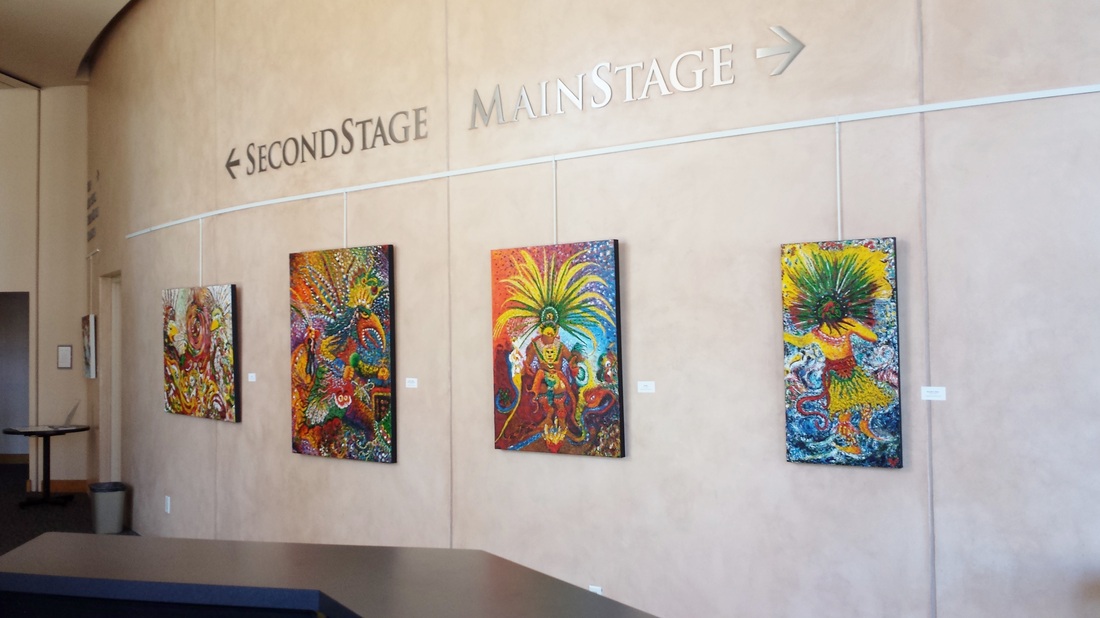 Above: Elizabeth Jiménez Montelongo's oil paintings of Aztec/Mexika dancers at the Mountain View Center for the Performing Arts, Mountain View, CA. (October 15- December 8, 2013)